EUR/NOK has moved above the 10.00 level and in the short term we are overbought but if we did correct this will provide a low-risk entry for longs.
Our view of the fundamentals, sentiment, and key technical levels to look out for is below.
Risk-Off Sentiment Hurting the NOK
We have risk-off sentiment which is bearish the NOK but on the other hand, oil and gas prices remain high – but this is not the focus of traders at present.
Worries about lower equities and slowing global growth are seeing money flow out of risk currencies and the NOK has fallen hard on both the USD and the EUR.
The NOK will continue to weaken so long as the risk-off continues which we think it will longer term but in the short term the NOK is oversold.
This points to a correction in EUR/NOK which could present a low risk long term buying opportunity for trend traders.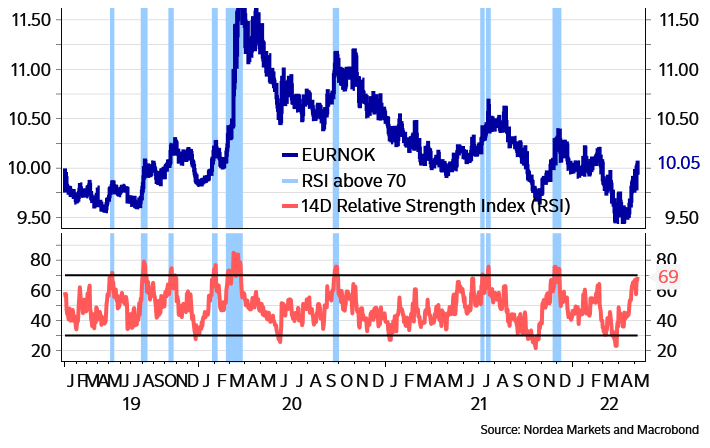 EUR/NOK To Correct on US CPI?
We could see a break lower tomorrow as we have US CPI which is expected to fall to 8.1% Y/Y from 8.5% Y/Y.
If this happens you could see a correction in the EUR which would lead to a chance to get long the EUR/NOK with good risk to reward.
✅ Forex Trading Course
✅ Daily Market Analysis
✅ Personal Mentoring
✅ 1-on-1 Sessions
✅ Member Center (lifetime access)
✅ Trading Strategies
While a lower CPI would lead to some relief for the NOK. The longer-term picture for the NOK and all commodity currencies looks bearish.
Pullback To Correct Oversold
A correction though would not indicate a trend change – while commodity prices have held up well a slowing global economy and the fact that commodities are priced in USD points to lower commodity prices longer term which is bearish for the NOK.
Crude oil has held up well but the war premium is discounted and fair value is probably between $90.00 and 80.00.
Technical Analysis
On the daily chart, we would expect a correction back to 10.00 or 9.900 to correct the overbought condition and would view the EUR as a buy-on strength.
In terms of upside potential, the monthly chart on the upside would be 11.20.