The yen is recently the worst-performing currency in the G10, with USD/JPY now at 128.00 could we move as high as 130.00 or even 140.00? Our view of the fundamentals, sentiment, and technicals are below.
The JPY is the third most traded currency globally but at the moment the price action in USD/JPY is more like an emerging market currency in terms of the volatility of the pair and the speed of the JPY sell-off. In terms of why the Yen is selling off it's all to do with yields.
Yields Driving USD JPY Higher
If we look at the market's perception of interest rate hikes by central banks going forward, the markets are seeing the USD having the highest rates of any major currency and the JPY having the lowest, and this wide yield differential is seeing the USD soar higher on the JPY.
Verbal intervention by Japan's politicians (the finance minister warned against the risk of a rapidly depreciating yen) is having no impact on the currency.
In addition, the probability of a rate hike by the BoJ to reduce the Fed-BoJ policy gap has been ruled out by BoJ Governor Haruhiko Kuroda.
✅ Forex Trading Course
✅ Daily Market Analysis
✅ Personal Mentoring
✅ 1-on-1 Sessions
✅ Member Center (lifetime access)
✅ Trading Strategies
In fact, the Bank of Japan has been intervening to keep the yield on Japanese 10-year government bonds around 0% and below the 0.25% level.
We have seen the JPY break the 125.00 level and there are many in the market who see USD/JPY going to 130.00 then 140.00.
Will the Bank of Japan Intervene to Support the JPY?
There looks to be no reason why there should be a turn down in the pair but the BoJ cannot let the Yen freefall.
Firstly, they will lose credibility by doing so, and secondly, Japan is one of the biggest importers of commodities in the world and a lower Yen will impact on business costs and also hurt the consumer.
So is the Bank of Japan likely to intervene to support the JPY?
The Yen is now at levels against the USD which historically have triggered intervention.
Sentiment Bearish and a Record Net Short Position
If we look at the sentiment towards the JPY we now have a record short held by asset managers.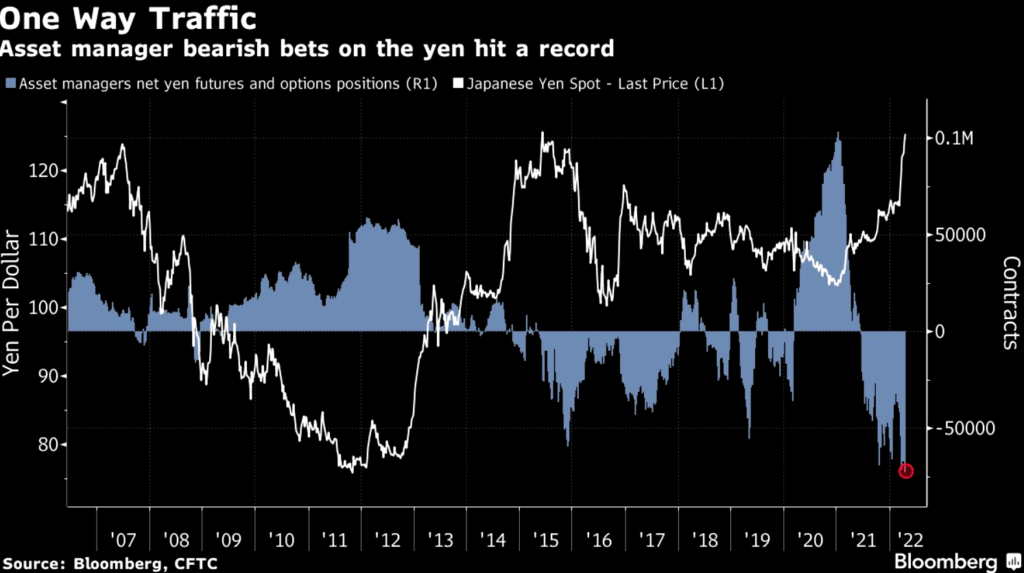 When a pair looks like a one-way bet and you have a universal bearish consensus it's the warning that a turn could be coming.
Technical Analysis
On the chart below we can see a big candle today which is moving up to the 130.00 level and we expect the level to hold a break below nearby support is expected to trigger a correction as the large number of speculators who are short the JPY are taken out on stop.