The Riksbank is now indicating rate hikes this year after previously saying the earliest a rate hike could come would be 2024.
Will we see the SEK move higher on this change in monetary policy?
A summary of the fundamentals, sentiment, and key technical levels are below…
Monetary Policy
The Riksbank has moved away from its dovish stance after recent inflation data and has warned that a rate rise is coming "soon".
Riksbank Governor Stefan Ingves said last week that policymakers will probably have to raise interest rates earlier than the previous timeline of the bank which was 2024.
When asked if a rate hike might come this year, he said "we cannot rule anything out."
The market has now moved to pricing in a hike of 16 bp for their meeting this month and the key data for the bank will be March CPI due on April 14th.
If we look at market pricing we can see on the chart below from Nordea the market is discounting more hikes in Sweden than in the US going forward.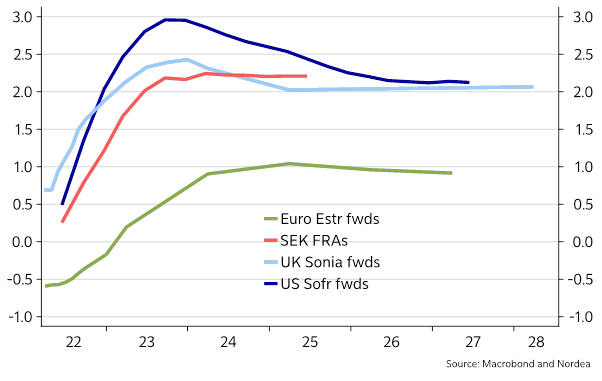 Investors are pricing 6 hikes by the end of 2023 and almost 7 hikes by the end of the third quarter of 2024.
The market is hawkish but most forecasters think the Riksbank will be more cautious:
"Our new call with hikes in September and November and then a final hike in February 2023, will lend support to the Swedish krona in the 1-9 month perspective even though one can argue that it is, by and large, priced in," (Danske Bank's analyst Jesper Petersen.)
Economic Outlook
"The Swedish economy is doing well, but at the same time uncertainty has increased. That uncertainty naturally increases with the ongoing war in Ukraine." (Riksbank Governor Stefan Ingves)
Sweden is heavily exposed to global growth and there are numerous warnings that global growth is slowing: higher energy prices, covid-19 outbreaks, supply chain issues, central banks moving to tighten monetary policy, and finally, the ongoing conflict between Russia and Ukraine.
Sweden's GDP exposure to Russia is small but the economy is being impacted by a sharp increase in energy prices which will be a drag on Swedish growth and has seen a plunge in consumer confidence.
Is the Good News Priced in for the SEK?
Investor expectations for a hawkish Riksbank are priced in and the Riksbank could be more cautious than the market expects.
The big macro picture points to a slowing global economy which historically is bearish for the SEK and bullish for the USD. 
✅ Forex Trading Course
✅ Daily Market Analysis
✅ Personal Mentoring
✅ 1-on-1 Sessions
✅ Member Center (lifetime access)
✅ Trading Strategies
Technical Analysis
In terms of the daily chart, we have support at the 9.400 level any dips through this level could offer buying opportunities back above the level with a stop behind major support at 9.200.
If we break higher we could see a move up to resistance at 9.800 then 10.00.