In terms of USD/CNH, we could see a big move up in the USD against the Yaun due to yield differentials which have widened and look set to widen further. Our view of the fundamentals, sentiment, and key technical levels to watch below…
The People's Bank of China (PBOC) last week announced a 25-basis-point (bp) cut to banks' reserve requirement ratio (RRR) from April 25, releasing about 530 billion yuan ($83.16 billion) in long-term liquidity which was less than the market expected in terms of a cut – the market was looking for 50 bps:
"The smallness of a cut to the amount of money Chinese banks must hold in reserves may reflect concern by the Chinese central bank over inflation and U.S. monetary tightening, making further interest rate cuts less likely, analysts say." (Reuters)
The logic of the above is other major central banks such as the Fed are set to raise rates aggressively so, too much easing in China could lead to destabilizing capital outflows as investors move cash out of the country looking for higher yields.
✅ Forex Trading Course
✅ Daily Market Analysis
✅ Personal Mentoring
✅ 1-on-1 Sessions
✅ Member Center (lifetime access)
✅ Trading Strategies
We take a different view and expect the PBOC to make further cuts. Also, a falling Yuan will boost Chinese exports at a time when the Chinese economy is slowing up and also taking a big hit from Covid lockdowns.
The market is bullish on the Chinese economy but the GDP numbers are inflated and debt levels are huge in China – the PBOC will support the economy view stimulus and rate cuts going forward.
If we look at US-China 10 year spreads at present they have soared higher and we would expect the gap now to narrow between bond spreads and USD/CNH which we expect to mount a strong rally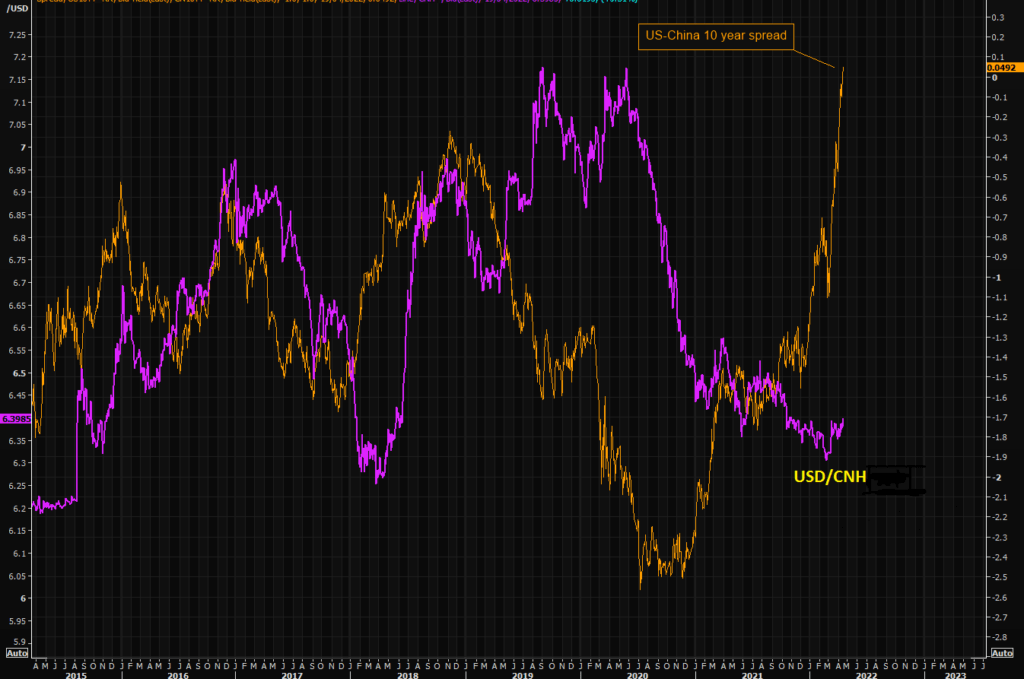 The Japanese Yen got hit hard recently on yield differentials and volatility soared which we think could happen in USD/CNH.
Technical Analysis
On the weekly chart below we can see a breakout to the upside and expect any pullbacks to be supported by the breakout level – We expect a major move to the upside and volatility to remain high