The S&P500 has shown some weakness but it still remains very overvalued with Price Earning levels not far from bubble levels.
Our view of the fundamentals, sentiment, and key technical levels to look out for are below.
Fundamentals for Stocks Are Bearish
If we look at the backdrop to the stock market the big fundamentals have turned bearish – we are seeing the US economy start to slow up already and interest rate hikes are bearish but we have only seen mild selling in the Index – why?
Investors Remain Bullish
For many years retail investors have been conditioned to buy the dip and this Pavlovian response has been rewarded but it won't last.
The big problem for stocks is the reduction of the Fed's balance sheet which takes money out of circulation.
Central bank stimulus was the big driver of the rally in global equities as we can see on the charts below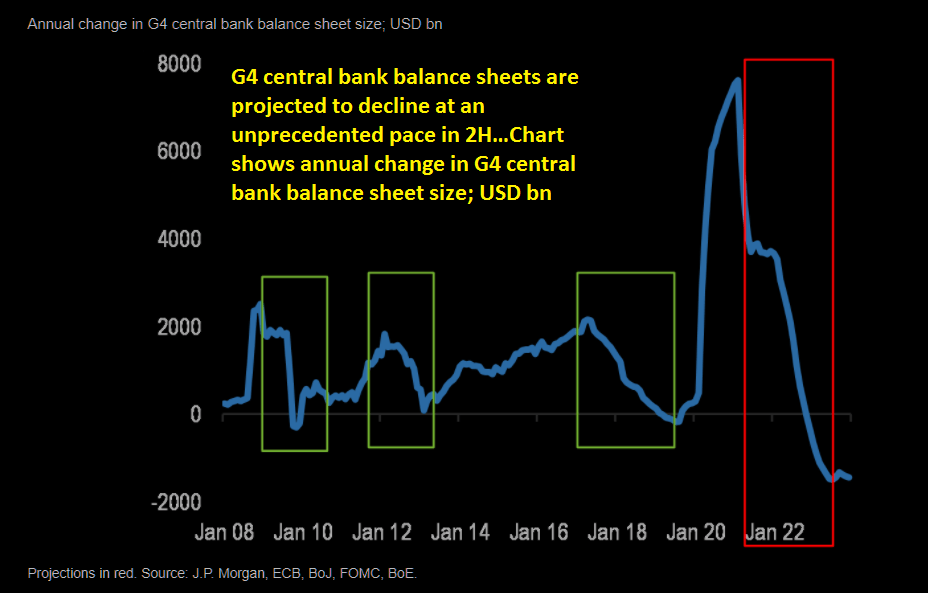 FED Stimulus and Balance Sheet Reduction
So around 90% of all the bull run in equities is down to stimulus! If you look at many forecasters their focus is on rates not the reduction in the balance sheet.
Many investors don't see rate hikes as derailing the longer-term strength and many investors believe the Fed will not be able to raise rates as quickly as they indicated and remain bullish.
The market is also looking for a peak in inflationary pressure and while we may have seen the high there will be no big fall either inflation will remain elevated.
Supply chain disruptions due to COVID particularly from China, the Russia Ukraine conflict, and the huge amount of fiscal stimulus given to consumers by the US government means inflation will likely remain high all year. 
Even if rates don't rise as quickly as expected stimulus will NOT be coming back.
✅ Forex Trading Course
✅ Daily Market Analysis
✅ Personal Mentoring
✅ 1-on-1 Sessions
✅ Member Center (lifetime access)
✅ Trading Strategies
The Fed is forecast to start running its balance sheet down as early as next month and we think the reality will hit investor sentiment and trigger a major sell-off to the downside.
While stocks may chop sideways in the short term, we think the odds of a major sell-off are high. If we do break lower we have a long way to go to get back to fair value.
Technical Analysis
On the daily chart below we can see the 4400 level as resistance and a break of support at 4150 could trigger a major sell-off to the downside.
The bigger monthly chart shows the massive stimulus rally and the correction from recent highs is small – A break of daily support which is also monthly support could trigger a major sell-off to the downside.