The USD has started to move up on the BRL but will we see more upside strength. Our view of the fundamentals, technicals, and sentiment is below.
"Brazil's hedge-fund pioneer says the euphoria in the nation's financial markets is starting to wane. Andre Jakurski, 73, says the rally in the real already went too far.
While the nation's soaring interest rates limit room for depreciation, he says the currency is more likely to decline… The fact that foreigners have been net sellers of local equities in the past weeks also isn't helping it." (Bloomberg)
The Brazilian Real looks vulnerable like all emerging markets to further falls as interest rate hikes by the Fed and a slowing Chinese economy threaten more weakness in what has been the world's best-performing currency this year.
Money has poured into Brazil-based on double-digit interest rates and also investment in the local stock market.
Brazil's main stock exchange has seen a net 69 billion BRL ($14.7 billion) in foreign inflows this year but no longer looks cheap in dollars or the local currency after a + 10% run-up this year.
Furthermore, the global economy is slowing and the USD tends to rally in periods of economic slowdown.
✅ Forex Trading Course
✅ Daily Market Analysis
✅ Personal Mentoring
✅ 1-on-1 Sessions
✅ Member Center (lifetime access)
✅ Trading Strategies
Rising interest rates in the US will make USD loans more expensive for any country that relies heavily on Dollar loans and Brazil like most emerging markets is heavily reliant on USD funding.
Commodity prices also look set to fall as China the world's biggest commodity consumer sees a big economic slow-up.
Also, commodities are priced in USD and a strong dollar is of course bearish for the commodity complex as a whole.
We could see a major sell-off in global stock markets and if this were to occur the USD would gain additional traction to the upside.
Speculators are heavily long the BRL despite some weakness which we can see on the chart below.
Commercial smart money is heavily short and we expect more downside in the Real and upside as speculators exit on stop.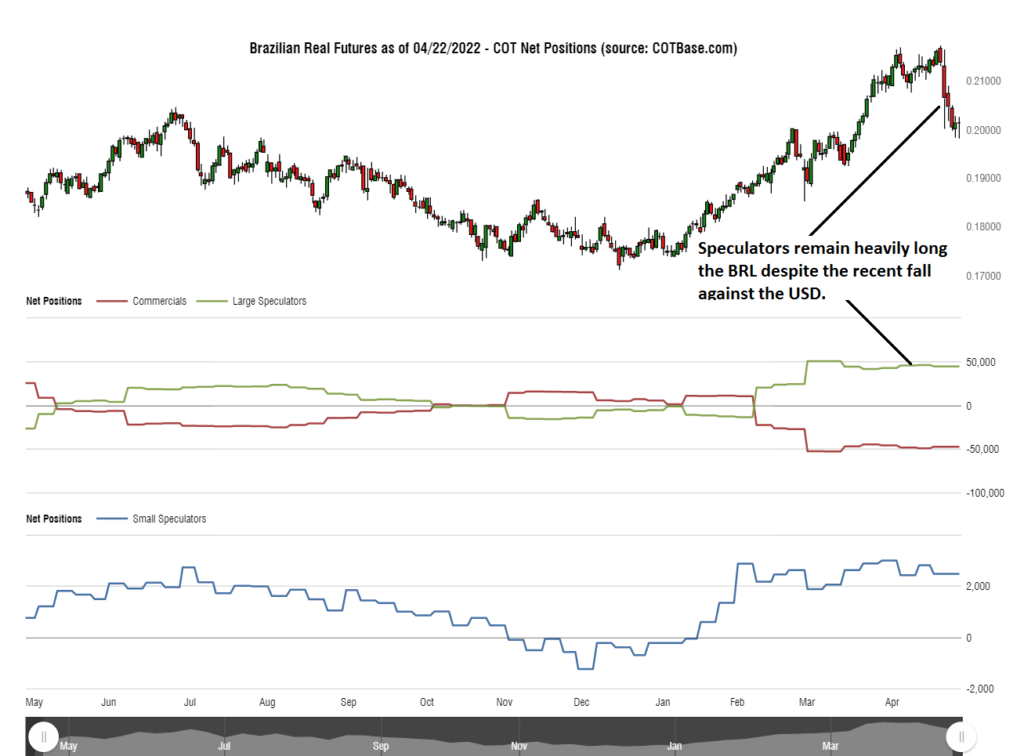 The bullish fundamentals for Brazil have peaked and we expect USD/BRL to make a major move to the upside and view the recent dip as a buying opportunity.
Technical Analysis
After an initial rally, we have seen a correction of the short-term overbought condition.
Today we are trading off the low of the day and expect a breakout above resistance at 5.200, to follow on to daily chart highs.