The USD has had a correction as the market has changed its view on how hawkish the Fed will be going forward and this has led to a pullback but rates are likely to rise quicker than the market thinks and we expect the USD to firm up from current levels.
Our outlook for the US Dollar Index (DXY) is below.
Interest Rates to Rise Quicker than the Market Expects
Fed chair Powell's comments this week rallied risk assets and risk currencies. He noted that the Fed is not thinking of more-than-50bp rate moves at individual meetings, while strongly suggesting 50bp hikes were in-store at least at the next two meetings.
Ahead of the meeting, financial markets had been pricing in a clear chance of a 75bp move at the June meeting. Are the markets too relaxed about Fed rate hikes?
"We see risks tilted towards the Fed eventually needing to raise rates higher than the market is currently pricing. We expect the Fed to hike rates by 50bp in June and July, followed by 25bp hikes until the rate reaches 3.5%." (NORDEA)
The Fed's message did not change the big picture – inflation remains near 40-year highs and won't come down soon and financial conditions have not tightened significantly to bring down inflation.
"This week's highlight is the US jobs report and that should be firm. Once again the main constraint will be a lack of worker supply with nearly two vacancies for every unemployed American (we will get an update on vacancies in next Wednesday's JOLTS report). This means wages will continue to be bid higher and the unemployment rate will likely fall to 3.5%." (ING)
Service inflation will not fall as wages keep rising as employers compete for a low number of people wanting jobs. The pool of available jobs can decline either as more people join the labor force or if employers cut back on their hiring and neither looks likely in the short term.
✅ Forex Trading Course
✅ Daily Market Analysis
✅ Personal Mentoring
✅ 1-on-1 Sessions
✅ Member Center (lifetime access)
✅ Trading Strategies
Also to get inflation down we also need to see an improved geopolitical backdrop to get energy prices lower, which seems unlikely with the ongoing conflict in Ukraine.
Supply chain issues also remain a concern with China's zero-Covid policy and the potential for strike action at US ports. We think the fall in the USD will end and the longer-term uptrend will resume.
In terms of inflation 3 charts below on why it won't be falling quickly going forward
If we look at the recent tick down in CPI it's minor and unlikely to come down enough in the next few months to allow the Fed to pause its rate hikes.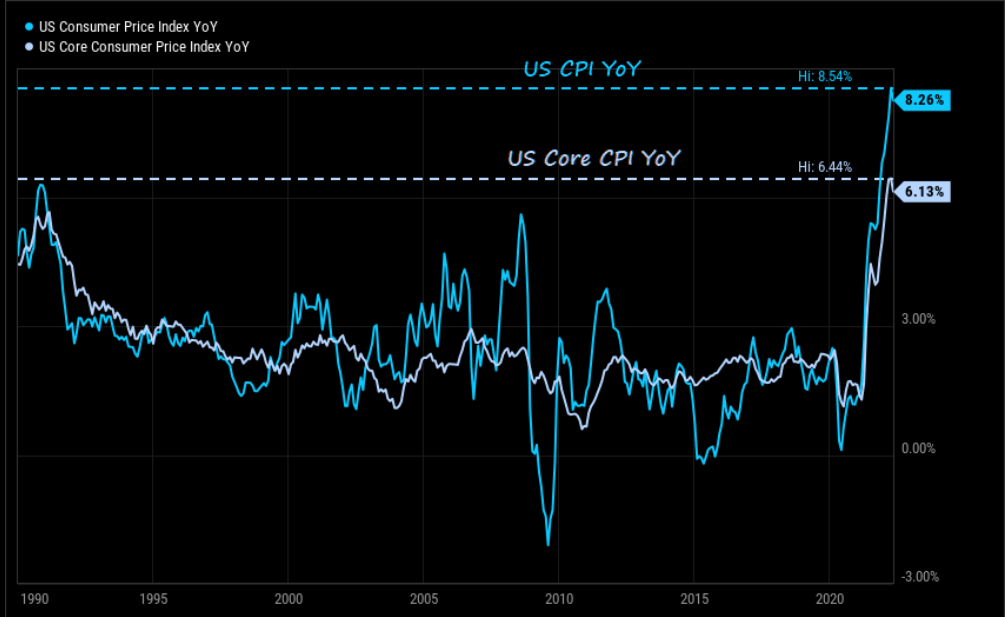 Technical Analysis
On the chart below we have support at the 101.00 level and resistance at 102.00 – If we can break above the 102.00 level we expect a rally up to chart highs and longer-term to monthly resistance at 110.00. The big trend is up and we are looking for the uptrend to resume.