The SP500 has seen a correction to the downside and longer-term we expect it to move far lower our view of the big fundamentals and sentiment below.
The Fed at its May meeting hiked rates by 50bp rate hike this week, as widely expected.
Going forward, the Fed will also hike by 50bp at the next two meetings according to chairman Powell and interest rates look set to rise to 3.5% in 2023.
Also, the Fed will reduce its balance sheet and draw stimulus out of the system.
This QT will commence on 1 June. Going forward, the drain of liquidity due to QT will weigh on risk assets such as the SP500 which have had a huge liquidity boost from central bank stimulus in recent years.
The reduction in the balance sheet is the major reason we are bearish of the SP500 – stimulus by the Fed and other central banks was the main reason global stocks rallied hard.
The chart below shows how much central bank stimulus was responsible for stock market strength.
Flows into stocks have been strong but we now expect this money to flow out and pressure stocks lower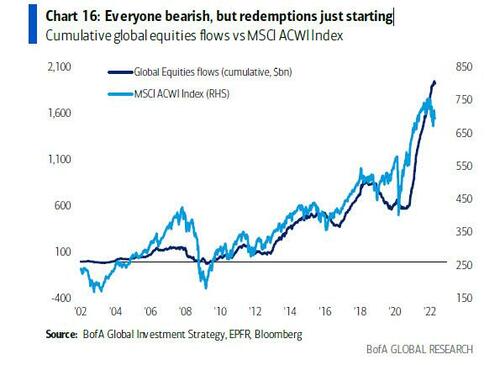 Fed stimulus aside the backdrop for stocks is bearish with rising interest rates into an economy that has started to stall and will turn down.
In fact, many forecasters see a US Recession coming and put the chances at above 40% in the next year.
Even without a recession stocks are heavily overvalued on a historical basis in terms of Price/Earnings ratios.
✅ Forex Trading Course
✅ Daily Market Analysis
✅ Personal Mentoring
✅ 1-on-1 Sessions
✅ Member Center (lifetime access)
✅ Trading Strategies
Retail traders over the years have bought stocks as they felt that the Fed "had their back" and wouldn't let stocks fall but this is clearly no longer the case.
The Fed knows they have to contain inflation and a correction in the stock market will not see them change their hawkish stance.
The biggest bull market in history is about to end – we could see a bounce in the short term but any rallies would be selling opportunities
Technical Analysis
On the monthly chart, we have broken the 20-month moving average ( green line) and see it as resistance to rallies to correct the overbought condition we expect a move to 3200.
On the shorter-term daily chart rallies are expected to be held by resistance levels indicated.