In terms of crude oil, we have seen some strength based on a statement from the EU about banning Russian oil but the rally on this news in our view will fade. The supply and demand fundamentals are long-term bearish. View of the fundamentals, sentiment, and technicals below.
"The European Union is proposing a ban on all oil imports from Russia saying President Vladimir Putin "must pay a high price" for his "brutal aggression" against Ukraine. European Commission President Ursula Von Leyden on Wednesday announced plans for a phased oil embargo." (INDEPENDENT NEWS UK)
Let's see if they can achieve this EU sanctions on Russia so far have been based on Article 29 of the EU Treaty (Treaty on European Union, TEU) provisions on common foreign and security policy.
The EU needs a unanimous vote in its council to adopt a political decision on restrictive measures (Article 31 TEU). Hungary has suggested it may veto this decision due to president Orban's friendly relations with Putin so this option can be discounted.
Two other options though would need only a majority vote. EU common commercial policy (Article 207) or energy policy (Article 194, TFEU). If these routes were taken the EU Court of Justice has noted the action:
"Must rest on objective factors amenable to judicial review, which include the aim and content of that measure."
In conclusion – the statement from the EU will not see an early ban in terms of oil.
✅ Forex Trading Course
✅ Daily Market Analysis
✅ Personal Mentoring
✅ 1-on-1 Sessions
✅ Member Center (lifetime access)
✅ Trading Strategies
In addition, a lot of Russian oil comes from destinations unknown for example buying oil products via a refinery in another country and there's a chance it could have originated in Russia.
Also, "ship-to-ship" transfers of oil between tankers have increased sharply since the war broke out in Ukraine. Russian tanker ships are "going dark", switching off tracking systems of their location to meet other tankers for transfer so how much impact would a ban have? Not much in our view.
Bearish Fundamentals
A slowing global economy and in particular China means lower long-term demand. Also, crude oil is priced in USD and a stronger Dollar is bearish for all commodities including crude oil: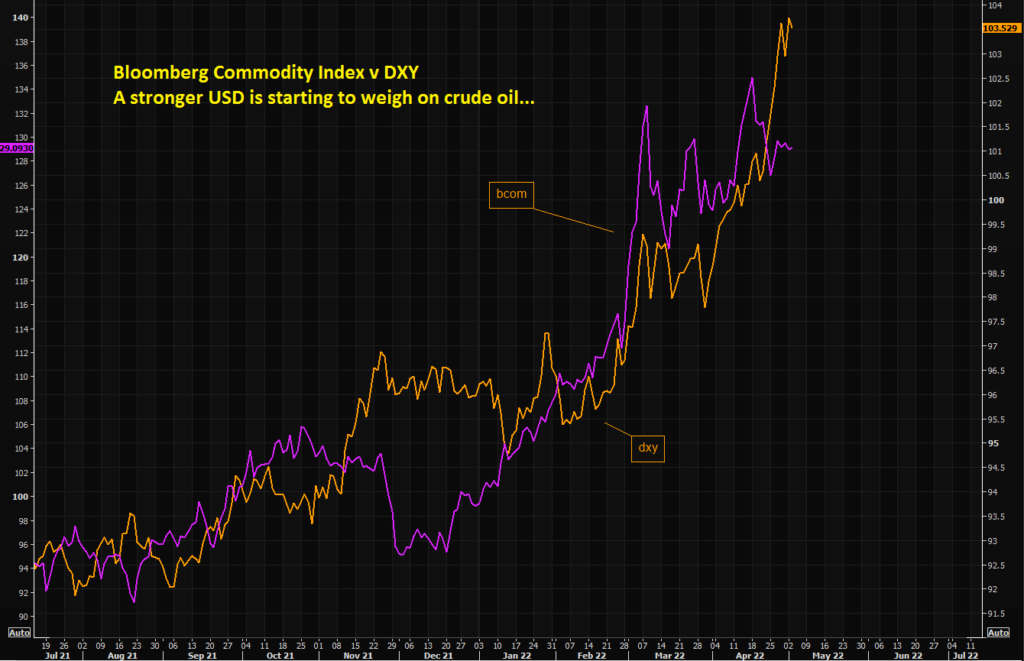 We would expect crude oil to move lower over the longer term and a price of around 80.00 would be fair value in terms of the supply and demand fundamentals.
Technical Analysis
The chart below shows the key levels of resistance on the upside and levels of support on the downside – a decline longer-term down to major support at the 80.00 level is expected.