The euro is in a long-term downtrend as we noted in a previous article the recent bounce was a good risk to reward selling opportunity – we think there is far more downside to come
Last week: "The ECB boldly decided to raise rates, leaving policy rate at -0.5%, and to continue QE until July 1st. Yet despite the ECB's failure to "wake up" and "go-go", Greece 10-year yields exploded above 4%, and Italy 5-year yields shot to fresh 8 years highs, above 3% and blowing away the March 2020 highs as BTP-Bund spreads soar wider than 200bps." (ZERO HEDGE) 
ECB Will Disappoint the Market in Terms of Rate Hikes
The problem for the ECB is the weaker nations of the zone such as Greece, Italy and Spain, cannot afford higher rates. The chances of the ECB delivering aggressive rate hikes in our view won't happen.
The idea that "one interest rate fits all" for the zone is now going to be proved wrong and the ECB have a problem they cannot solve which is to tame inflation with higher rates without killing growth or causing a credit problem in the weaker nations.
It started with the JPY and spread to the Yuan now we could see increased volatility in the euro. The ECB is in a difficult situation, with officials bringing to an end QE, we now have the possibility of several rate hikes from the summer onwards.
However, it's not clear the eurozone could cope with significant monetary tightening, especially when the ECB faces the additional complication of widening periphery spreads also they were vague in terms of size of rises and when they might happen.
✅ Forex Trading Course
✅ Daily Market Analysis
✅ Personal Mentoring
✅ 1-on-1 Sessions
✅ Member Center (lifetime access)
✅ Trading Strategies
Euro Zone Heading for Recession
Our view is the ECB will talk about hiking and then won't deliver – they will prioritize growth over inflation as the zone faces recession.
A recession coming soon in the eurozone. The two western European economies on the front-line of war in Ukraine – Italy (orange) and Germany (blue) – have their manufacturing PMI (chart 1) and the forward-looking orders minus inventories (2nd chart) fall sharply.
Eurozone is going into recession…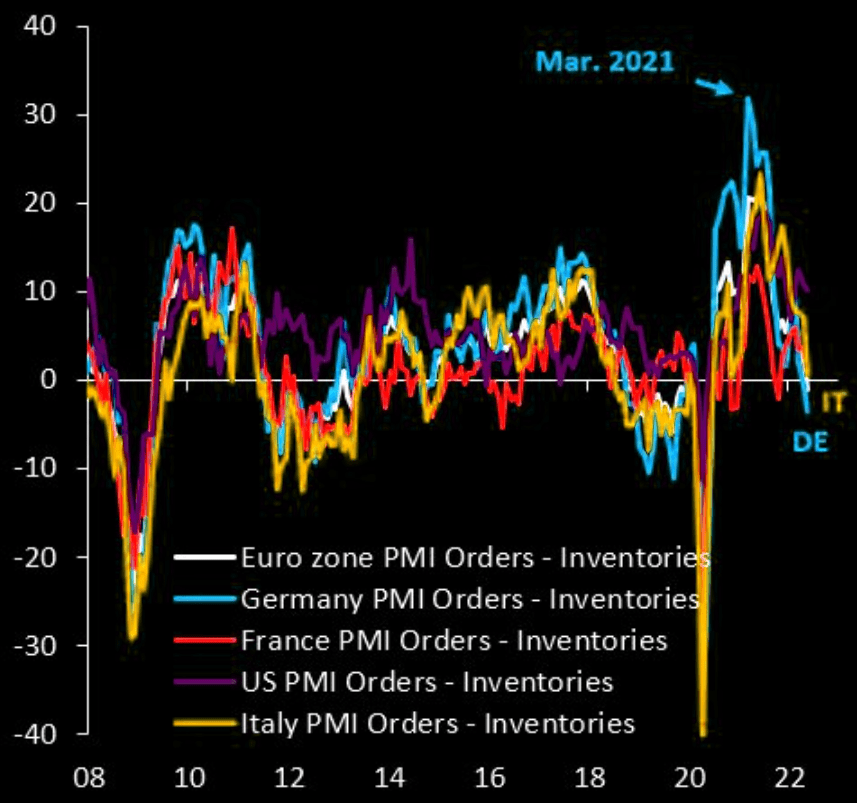 Technical Analysis
The chart below shows the levels of support and resistance to look out for in terms of selling a rally or a break lower.
Any rallies are selling opportunities in our view and we expect the euro to fall to the big monthly support level at 1.000.