The AUD has rallied on the USD but the big trend is down and we now expect it to resume its downward trend. Our view of the fundamentals, sentiment, and technicals are below.
Big Fundamentals Bearish for the Aussie
In terms of the big fundamentals the market is looking for a hawkish RBA but this is priced in and the big fundamentals that will send the AUD lower are a slowing global economy and in particular, a slowing China which is Australia's biggest export partner and the worlds biggest commodity consumer:
In terms of the global economy we are not only seeing a slow up we could see a global recession:
"Global recession is coming. China (black), Germany (blue) & Japan (pink) are the world's biggest exporters. New export orders in their manufacturing PMIs are tumbling, signaling weak global demand." ( BofA)
Watch the AUD Yaun Correlation
The Chinese economy was slowing up anyway and has taken an additional hit in terms of COVID lockdowns in Shanghai and other major industrial hubs.
The People's Bank of China who manipulate the Yaun exchange rate are now letting the USD rally on the CNH (Offshore Chinese Yuan) why are they doing this?
✅ Forex Trading Course
✅ Daily Market Analysis
✅ Personal Mentoring
✅ 1-on-1 Sessions
✅ Member Center (lifetime access)
✅ Trading Strategies
To try and get a better exchange rate for exports which we have already seen are slowing up in all major economies including China. A weaker CNH will pressure the Aussie as we can see on the charts below: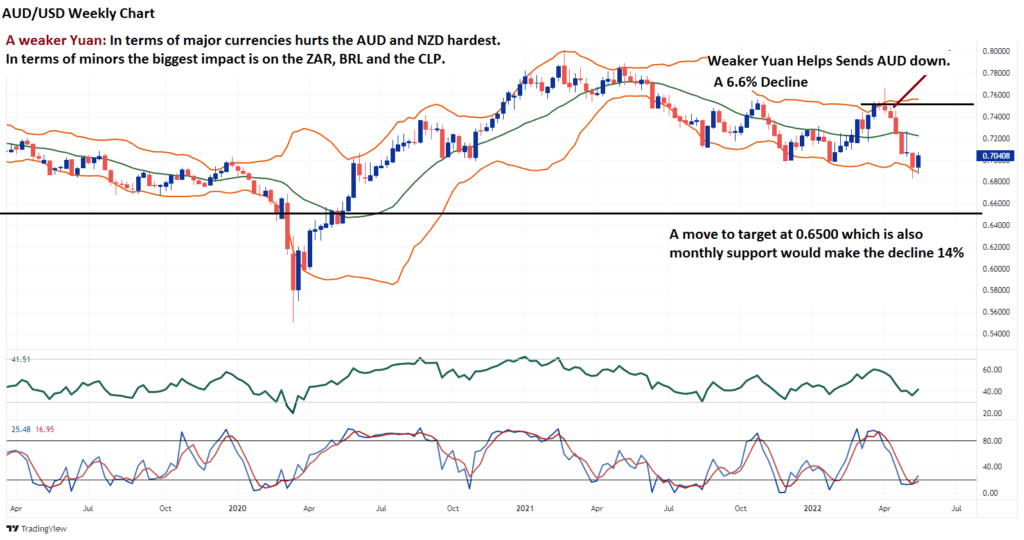 Stock Market Weakness to Weigh on the AUD?
Also, we are seeing global stocks weaken which if this continues or we see a crash the USD will get an additional boost
Technical Analysis
We can see on the chart below a rally which has now stalled at resistance and we view the AUD as a sell through nearby support for a move down to new daily lows and then on to monthly support at the 0.6500 level