EUR/USD is in a downtrend and we could see a move to 1.0500 in the coming weeks as the economy slows in response to the Russia Ukraine crisis. A summary of the fundamentals, sentiment, and key technical levels to look out for below…
Another big upward surprise in Euro-area inflation has added pressure on the ECB to raise rates but downside risks for the economy have risen at the same time…
ECB Meeting Preview
Next week we have the ECB meeting. Markets are pricing in around 115bp of monetary tightening over the next 12 months which implies the market thinks the ECB will be hawkish but the market could well be disappointed as the ECB are likely to be cautious and dovish.
The ECB is likely to reiterate the Asset Purchase Programme (APP) scheduled reduction announced in March (€40bn in April, €30bn in May, €20bn in June), and probably a commitment to end APP after June.
✅ Forex Trading Course
✅ Daily Market Analysis
✅ Personal Mentoring
✅ 1-on-1 Sessions
✅ Member Center (lifetime access)
✅ Trading Strategies
The ECB is likely to stress the uncertainty in terms of the economic outlook due to the Ukraine Russia crisis and it's unlikely the ECB will hint that interest rate hikes are coming soon.
The ECB is focused on growth over inflation and growth has been hit hard by the rise in commodity imports and in particular natural gas prices.
EU Economy Slowing Growth and the Risk of Recession
On the chart below we can see the impact of Natural gas prices and flows on EU growth.
While energy prices have soared, we also have the additional financial burdens of defense and refugees.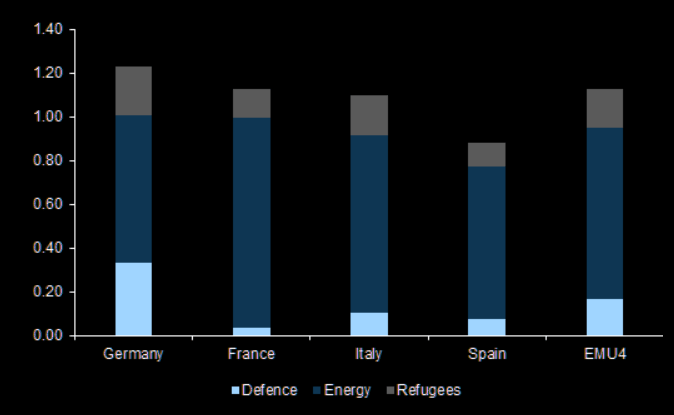 In terms of the impact of the war in Ukraine could we see a ceasefire in the coming months? The chances look low as we can see in the summary from TS Lombard below.
The EU economy has been hit hard by rising commodity prices and faces the possibility of going into recession in the coming months.
The US economy is growing at double the rate of the euro economy and the Fed is forecast to hike rates 7 times this year. The big fundamentals clearly favor the USD both now and going forward.
In terms of sentiment, large speculative funds hold sizeable euro long positions which leaves the euro vulnerable to a sell-off as these large funds exit longs.
Many forecasters argue the EUR is oversold on the USD but historically it isn't which we can see on the chart below.
EUR/USD is in a downtrend which could have further to run – the key technical levels of support and resistance to out for below…
Technical Analysis
On the monthly chart, we can see we have just broken the 1.100 level and the next big support level is at 1.0500. On the daily chart we have minor resistance at 1.0900 and then major resistance at the 1.0100 level. A move to a new daily low through 1.0800 sets up a move down to big monthly support at 1.0500.