Crude oil has seen highly volatile moves in recent weeks and has moved down to near a key support level.
Will we see a break lower or will we see another move to the upside?
Crude oil has a history of overshooting fair value to the upside or downside and just a few weeks ago
Many forecasters were talking about crude hitting $200.00 or more but we have seen a significant decline of over 25% from recent highs.
The reason for the fall was a large number of speculators bought on the Ukraine invasion and pushed prices far to the upside and the bullish extreme peaked with over-leveraged speculators getting taken on stop.
Crude has a history of speculative spikes which push too far from fair value.
When we saw the price spike higher we had numerous media articles talking about $200.00 + crude but we are trading well below $100.00.
Supply and Demand Fundamentals
Even BEFORE the Russia Ukraine crisis prices were overbought as traders bet on a strong global recovery from COVID.
We now have a situation where the global economy is slowing and is likely to slow further, as central banks around the world move to hike interest rates to control inflation.
China is the largest commodity consumer and the world's second-largest importer of crude oil. China's lockdowns and COVID-19 cases are rising thus easing demand for crude from one of the world's major importers.
✅ Forex Trading Course
✅ Daily Market Analysis
✅ Personal Mentoring
✅ 1-on-1 Sessions
✅ Member Center (lifetime access)
✅ Trading Strategies
The Caixin Composite PMI print for March showed the lockdown impact with a drop to 43.9 from 50.1 the previous month.
The spike in crude also led to "demand destruction" which is where high prices impact on demand…
"Traders finally woke today to the reality of demand destruction, gasoline and distillate demand rolling over on both flat and rate of change basis, part deficit from the Vaccine Rainbow and part consumers puking on high prices." (MPAS).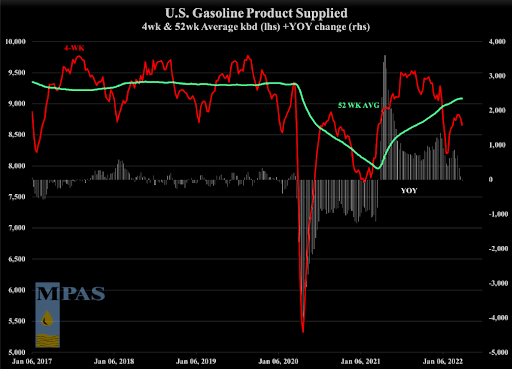 Another point to keep in mind is crude oil is priced in US dollars and a stronger dollar is bearish for crude oil and the DXY.
We would expect the USD to remain firm over the coming months which will weigh on crude.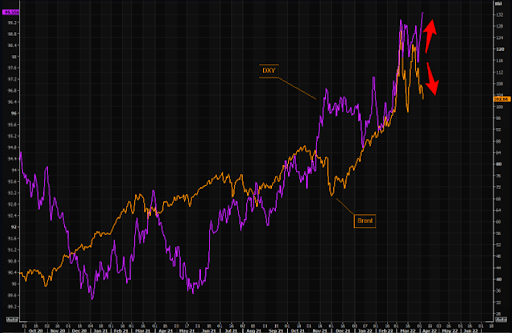 Technical Analysis
On the chart below we have support at the 95.00 level and a break and close below it could set up a move down to 80.00.
On the upside, any rallies above 100.00 are like to fade into resistance and the 20-day moving average.